What are sustainable ways of travelling to German Bundesliga games?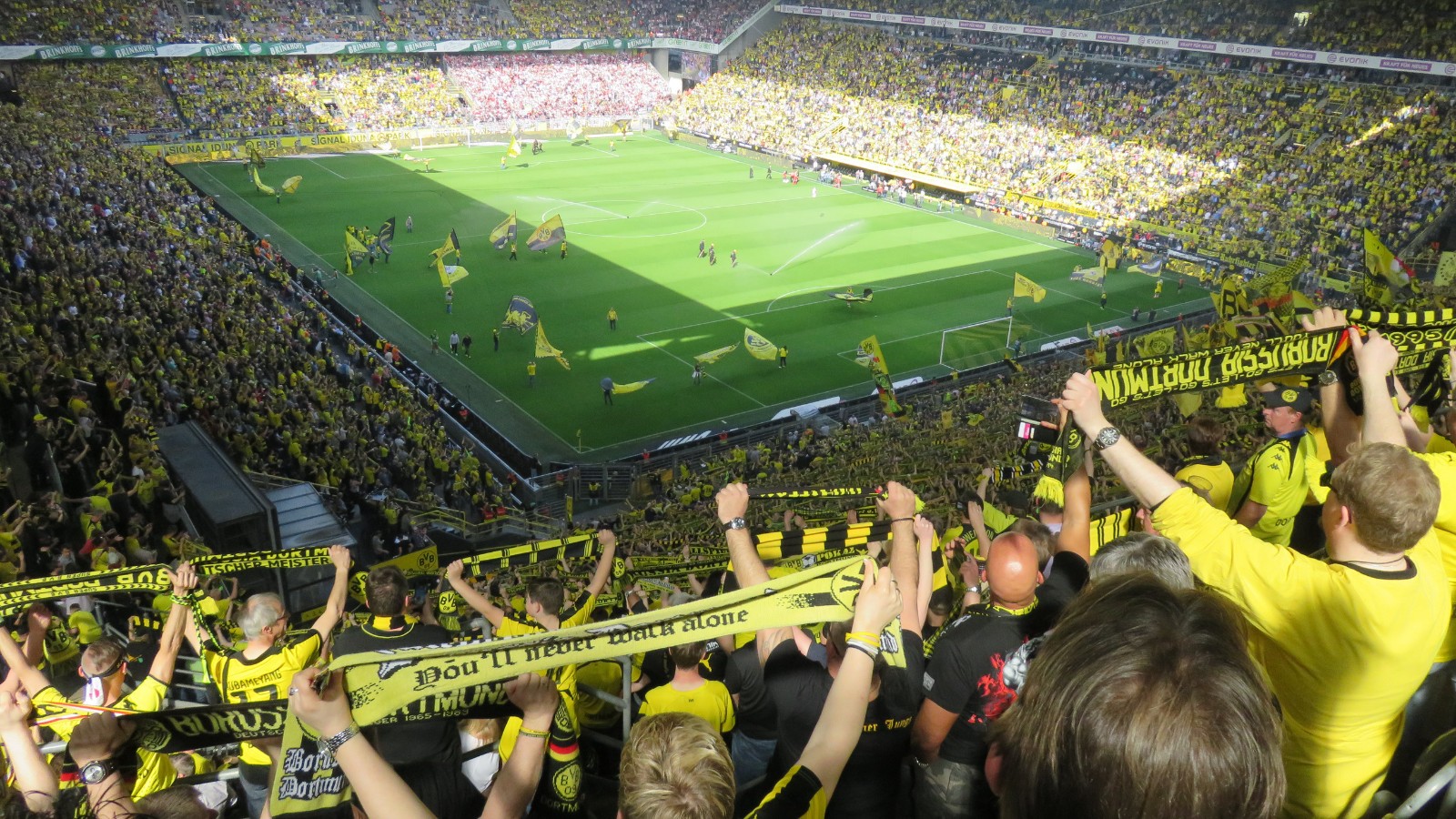 What are sustainable ways of travelling to German Bundesliga games?
By Philip Jenkins, Sport Positive Leagues
From standing in Borussia Dortmund's breath-taking "Yellow Wall" in the Südtribüne (south stand) of Signal Iduna Park, to Bayern Munich's Allianz Arena where an army of fans are ever-expectant of another league title for the Bavarians, thousands of fans flock to watch their favourite German Bundesliga team play on a weekly basis. But what impact do fans travelling to stadiums have on the environment?
In a study conducted in January 2021 by Christian Loewen & Pamela Wicker titled 'Travelling to Bundesliga matches: the carbon footprint of football fans', they identified that the average seasonal carbon footprint of a Bundesliga fan amounted 311.1 kg of carbon dioxide equivalent emissions (CO2-e), with car travel accounting for 70% of the emissions. To give this some context, 311kg of carbon dioxide is about the same as an average passenger vehicle driving 782 miles, and CO2 emissions per capita in Germany are about the equivalent to 9.44 tonnes per person.
So how can fans attend German Bundesliga matches in a more environmentally friendly way?
Below, we have selected some of the best sustainable transport initiatives available from German Bundesliga teams across the country, that enable fans to travel to matchdays in the an environmentally friendly way.
By public transport
According to The European Environment Agency, the average greenhouse gas emissions by motorised mode of passenger transport in the EU between 2014-2018 showed that passenger cars produced a significantly higher amount of greenhouse gases, compared to public transport; consisting of buses, coaches and passenger trains:
• Passenger cars = 143gCO2e per pkm
• Buses and coaches = 80gCO2e per pkm
• Passenger trains = 33gCO2e per pkm
Key: gCO2e per pkm = grams carbon dioxide equivalent per passenger kilometre
1. FC Köln is one of 11 German Bundesliga teams that enable fans to use their matchday tickets for public transport at no additional cost – known as a Kombi-Ticket. With a total fleet of 293 light rail vehicles across the Cologne Public Transport Authority (Kölner Verkehrs-Betriebe/KVB), a survey conducted by the club found that 40% of Effzeh fans use public transport to attend games at the RheinEnergieStadion. Dirk Wunderlich, Head of Business Unit German Cities at Bombardier Transportation states that the light rail vehicles have been developed for sustainable and energy-efficient operation with low noise emissions and low energy consumption that contribute to more climate-friendly traffic in the cathedral city of Cologne.
Eintracht Frankfurt have created an impressive initiative to encourage fans to use public transport, by offering a complimentary ticket. A survey conducted by the club found that more than 60% of supporters use public transport for matchdays. Additionally, in 2013, the Frankfurt transport company Verkehrsgesellschaft Frankfurt am Main (VGF) launched a climate-neutral tram that runs on Mainova green electricity and takes fans to Eintracht Frankfurt's Deutsche Bank Park, ensuring that the journey to the stadium is 100 percent emission-free.
By bicycle
BikeRadar states that cycling has a carbon footprint of about 21g of CO2 per kilometre (coming from manufacturing emissions and extra calories needed to cycle) which is less than a tenth the emissions of driving. Currently in Germany, 10% of journeys are made by bike and the country aims to increase the average number of bike journeys each German makes by half – from 120 a year at present to 180 in ten years-time. Government spokeswoman Ulrike Demmer said that compared to driving, this would result in greenhouse gas emissions savings equivalent of 3-4 million tons of carbon dioxide.
Within the German Bundesliga, Eintracht Frankfurt provides fans with the option to use nextbike bicycles to travel to and / or from the Deutsche Bank Park, where fans will receive the first 30 minutes of the journey free of charge from Deutsche Bank.
In addition to Borussia Mönchengladbach's offer of free public transport for arrivals on matchday with a free shuttle bus available, the club also advocates fans to cycle to BORRUSIA-PARK with 1,000 bicycle parking spaces available directly outside the stadium.
1.FSV Mainz 05 has a particularly inventive initiative to get fans cycling to the MEWA Arena by providing a free bike check for home games. As an additional incentive, the club randomly distributes free VIP tickets to fans arriving by bike.
By electric car
A study carried out by Germany's Federal Ministry for the Environment, Nature Conservation and Nuclear Safety (BMU) into how eco-friendly are electric cars, found that the greenhouse gas emissions over the entire life cycle of a contemporary electric vehicle are around 30 percent lower than those of a petrol vehicle and around 23 percent lower than those of a comparable diesel vehicle.
For those of Borussia Dortmund's fanbase that have electric vehicles at their disposal, fans are now able to charge their electric cars outside of the Signal Iduna Park at the BVB FanWelt. Currently there are four charging stations open and a further five are planned by the club.
Each of the 18 German Bundesliga teams are working strategically across all club operations, engage with fans to encourage positive behavioural change and show long term commitment to combatting climate change as seen in our 2021 Sport Positive Bundesliga Sustainability Table.
With numerous sustainable transport options available, how will you attend your next German Bundesliga match?